Why startup founders love Capbase

Capbase is a revolutionary, must-have solution for the founding teams at any startup today. The amount of value packed into the platform is huge.

Capbase is an excellent service that allowed me to be organized, professional, and diligent as I set up my company and raised funds.

Handling everything from incorporation and share issuance, to contractor hiring, and general compliance, the platform is delightful to use. I wish I used it in my first two companies!
Incorporate & stay compliant
Form a Delaware corporation
The corporate structure investors expect from startups
Register in 3 business days
We are a licensed registered agent, authorized to make state filings
Create compliant contracts
An investment-grade legal foundation for your startup
Keep your documents safe
A secure data room for all your contracts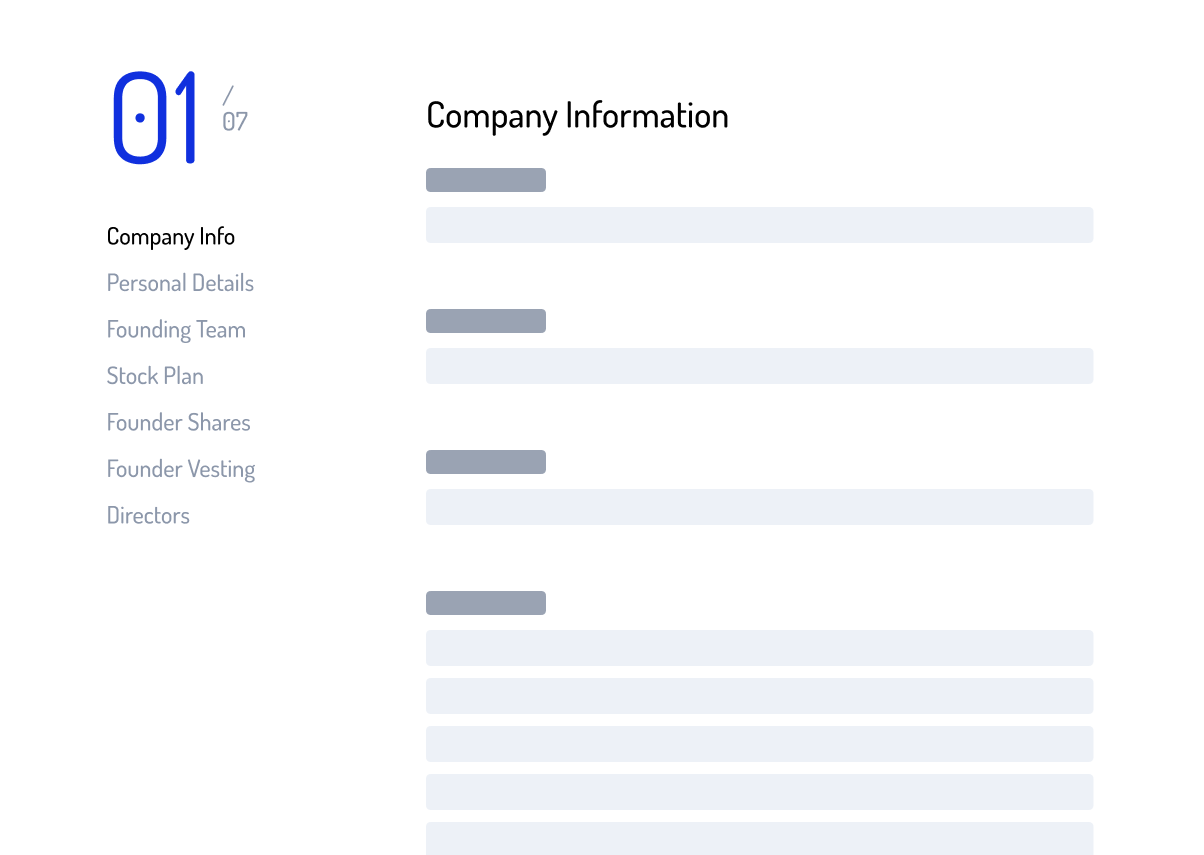 Take control of your equity
Purchase founders' shares
Issue shares to co-founders and set vesting schedules, including 83(b) election
Issue shares to employees
Attract top talent with restricted share & stock option awards
Track ownership in your cap table
Your cap table is automatically updated when you issue equity to employees, consultants & advisors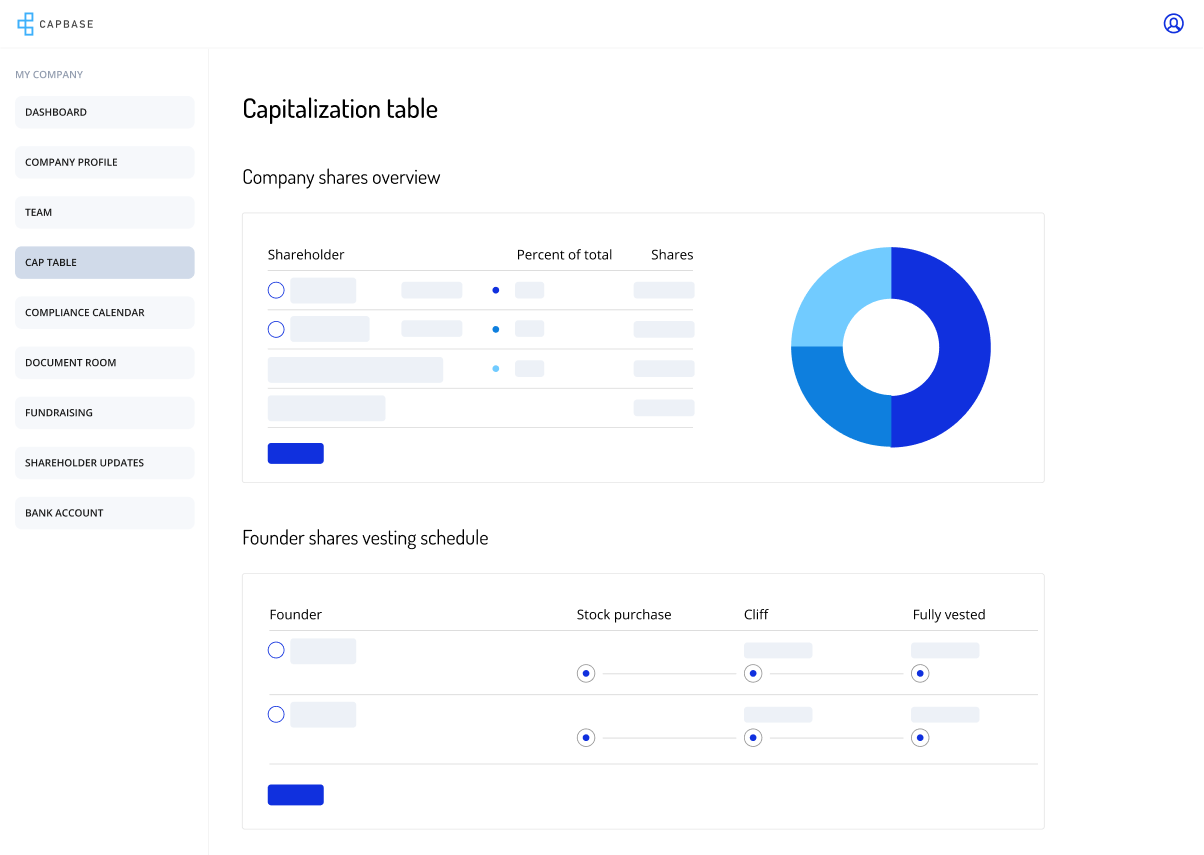 Raise funds from investors
Issue SAFEs & convertible notes
Track the fundraising process, from generating the contracts to signing and wire transfers
Keep track of how much of your company investors own
Your cap table automatically updates when investments are completed
Breeze through due diligence
Easily export your cap table & document room for review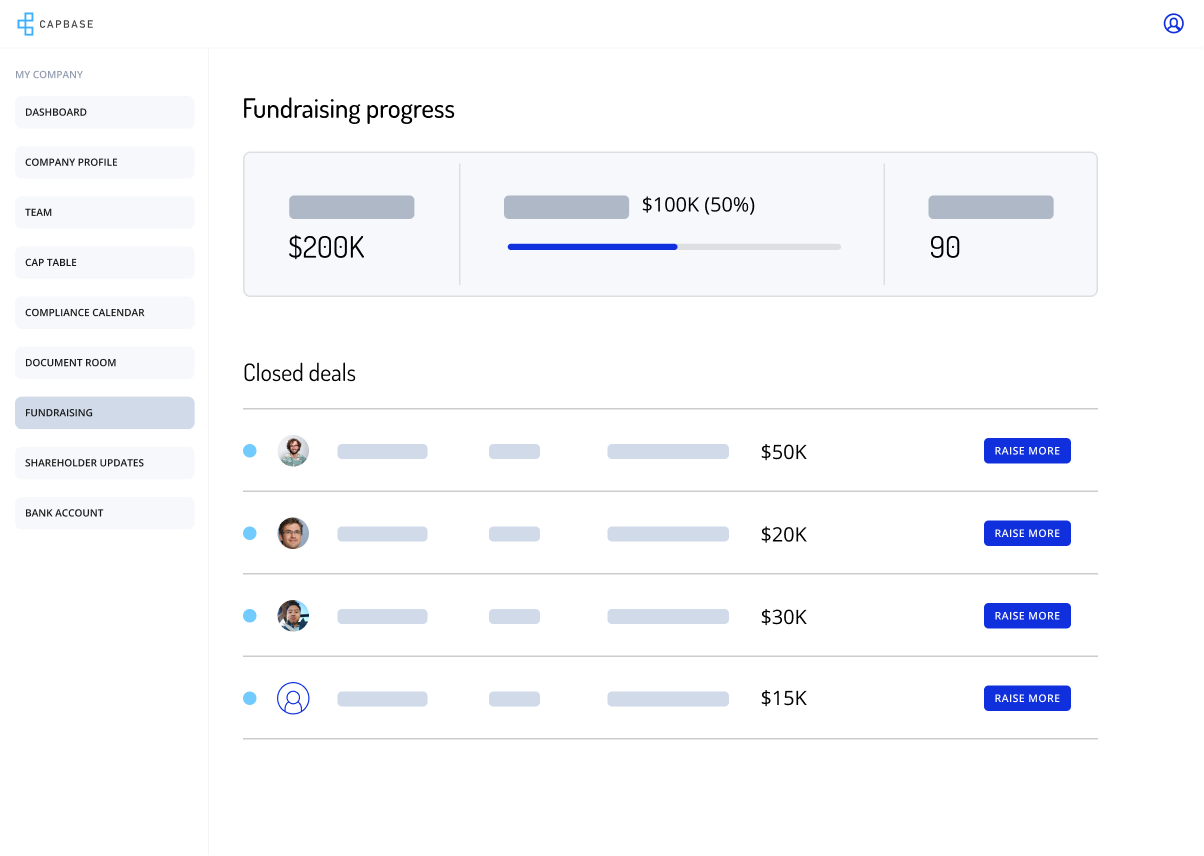 Focus on building your startup instead of paperwork & compliance
To get started, you have to:
File articles of incorporation in Delaware
Set up a board of directors
Sign your founder equity contracts
Sign IP assignment contracts
Get an EIN for your company
Save

$25,000+

on software & services for your startup
 when you sign up with Capbase
Payroll for Startups

30% off SaaS fees for the first year when using Deel for payroll & compliance

Insurance

Save up to 25% on business insurance for your startup with Vouch

Cloud Computing

As a Capbase customer, you are eligible for up to $5K in AWS credits

Spend Management

Capbase companies get 25,000 points in statement credit after $1,000 spent

Banking

Streamlined bank account creation on Mercury for Capbase customers

Bookkeeping

Capbase companies get $200 off Pilot first year sign up

Marketing + CRM

Capbase companies get 30% off HubSpot marketing and sales software for the first year, and 15% off ongoing

Communication

Capbase companies get 25% off eligible plan upgrades for 12 months. Terms apply.
FAQs
What does Capbase do?
We're the startup that helps other startups start up. Hundreds of startup founders use our platform to manage the legal and financial side of their companies, like incorporating in Delaware, state business registrations, compliance, hiring employees, issuing equity, managing their cap table and raising funds from investors.
What does Capbase cost?
An annual subscription costs $999. The annual price stays the same until you raise a priced round, like your Series A. Startups typically save thousands of dollars by using Capbase, as compared to law firms and other software solutions.
Does Capbase offer customer support?
Yes, you can always ask us any questions about our product or the startup process. Send us a note over email or live chat, and we'll get back to you promptly!
What if I already incorporated my company?
You can still use Capbase to set up your employee stock plan, issue equity, manage your cap table and raise funds from investors. Contact us and a member of our sales team will happily walk you through the process of getting your existing company set up on our platform.