Delaware Corporation Search: Check if your name is available in DE
by Jason D. Rowley • 9 min read
published September 16, 2022 • updated January 23, 2023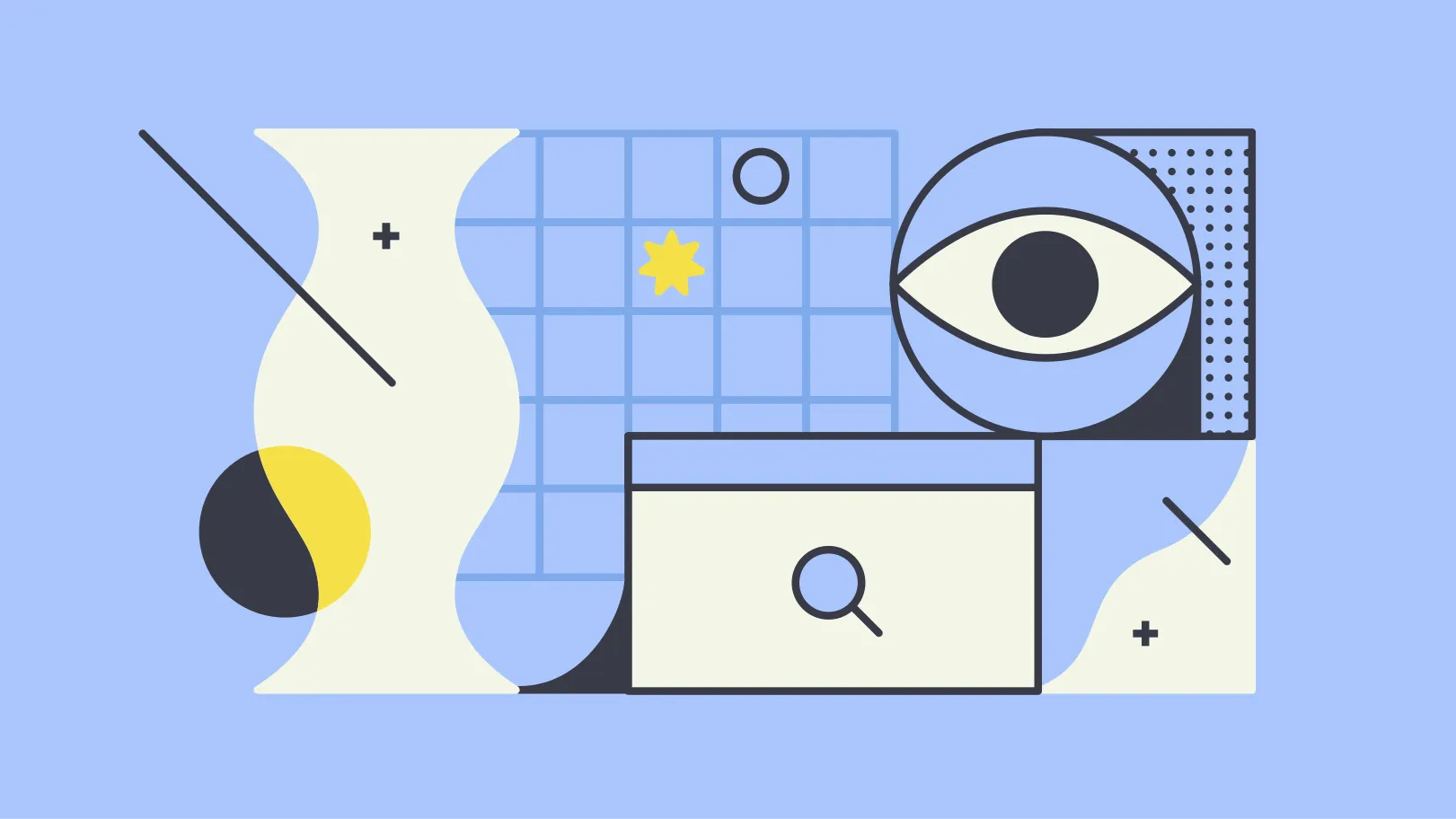 What you name your company is (mostly) up to you. But how do you know if a name you'd like to use is already being used by someone else? What, if any, rules are there around naming a company? And how can you make your company name a little more unique to your industry?
Answering these questions is the goal of this article. Operating under the assumption that you want to incorporate a company in the state of Delaware—the legal domicile of choice for tech startups—we'll explain how to use the Delaware Business Name Search tool to see if the name you want to use is already taken, and the different types of names your company may use when doing business.
If you're using Capbase to incorporate a company, we run this Delaware search for you, but when you're just starting the name-brainstorming process it's helpful to know how to use Delaware's name search tools to check for name availability. On that note, it's also worth mentioning that this guide only covers Delaware business name search. If you need to register a branch entity in, say, California, you'll have to make a business entity search for those states separately.
Delaware Business Name Search Tools
The Delaware Division of Corporations has two online search tools: a basic business entity name search, and a slightly more structured search tool which allows people to see if a business entity name can be reserved even before completing the incorporation process.
Let's start by stating the obvious: These are not stylish websites, but they do get the job done. This is what the basic search interface looks like.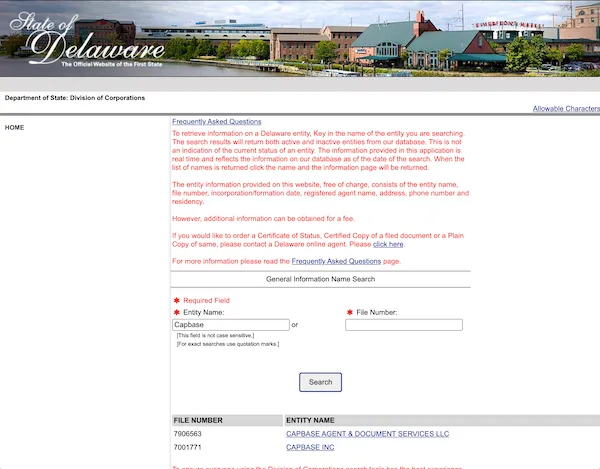 You can search for companies by name (or parts of names) or file number. Searching by file number is only helpful for pulling up a specific company's records and submitting a request for a certificate of good standing, and is not very helpful with the general name search process.
This basic search interface is probably going to be the most helpful out of the two, because it will surface a list of Delaware companies (up to 50) that could be using a similar namespace to you. In the above screenshot you'll notice two companies that use the word "Capbase" in their name. (The LLC is a subsidiary through which we run our registered agent services.) Be sure to test all parts of the name you'd like to use so you can be sure that it's unique and distinct from other company names.
Kind of like buying a domain name and sitting on it for awh before you actually use it for your business, you can—if you want—reserve a legal name. There's a different interface for doing that, and this is what it looks like.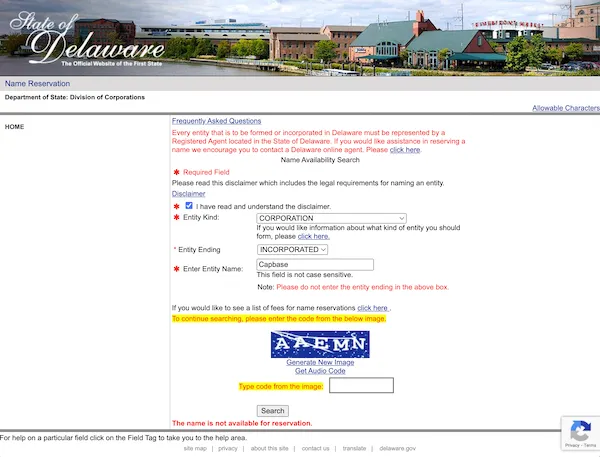 Notice how this interface only tells you if a name is potentially available for reservation. It does not display the other companies which may be in your namespace, and performing searches is a bit more cumbersome.
Again, the more basic search interface is likely to be more useful, but if you really want to reserve an entity name, this is the interface through which you would do that. It costs $75.00 to reserve your entity name for up to 120 days.
Naming Rules For Delaware Corporations
Now that we've gone over the business name search tools from the Delaware Secretary of State, let's go over some of the rules and regulations you'll need to keep in mind when coming up with a name for your company.
Business entity names must be distinguishable from other business names that have already been registered. This is also true for any "doing-business-as" (DBA) name that may be associated with your company's official legal name. If there's already a company using the exact same entity name that you'd like to use, you're probably out of luck. This is also true if the same name is being used by an entity of a different type. For example, if you wanted to register "Barnacle Solutions, Inc." but there's already a "Barnacle Solutions LLC" in the registry, you will not be able to register your company under that name.
Business entity names must contain a corporate designator. According to Delaware law, corporations must include one of the following words: "association," "company," "corporation," "club," "foundation," "fund," "incorporated," "institute," "society," "union," "syndicate," or "limited." You can include the full word, or an abbreviation (like "Inc."). Different business entity types (like limited partnerships, limited liability companies, partnerships, and statutory trusts) have their own set of naming requirements.
There are also restrictions on using certain words in your business name. Following Delaware rules (and rules in most other states), you can't use profanity in business entity names, nor can you use words that are likely to "facilitate, incite or foster any criminal act or offense as prohibited under Delaware law." Words related to or promoting acts of terrorism, narcotics and controlled substances, fraud, hate crimes, stalking, bullying, deadly weapons, and the like are typically off limits. Discriminatory language is also not permitted, as is anything that could "result in difficulty in administration" such as using an entity name with 500 characters.
Lastly, there are words that can only be used by companies with certain other qualifications. For example, a corporation cannot use the word "Bank" in its name unless the company is in fact chartered and properly licensed as a bank and has received approval from the Delaware Banking Commissioner. Similarly, you can't use the words "College" or "University" in your name unless you're set up as an educational institution and received approval from the Delaware Secretary of Education. Same goes for "Trust." If your business entity is not explicitly set up as a trust, you can't use the word "Trust" in your name.
Assuming the name you'dlike to use meets these criteria, you should be good.
What If The Entity Name I Want To Use Is Taken?
Especially if you want to use a relatively common word in your entity name, you may want to consider adding additional words which can make your entity name unique. An entity name like Pear, Inc. is already in use, but Pear Manufacturing, Inc., Pear Software, Inc., Pear Insights, Inc., and other variations may be available.
Lastly, if all else fails, you can always register an entity name, and use a completely different name for your public-facing brand. For example, Instacart, the grocery ordering and delivery app, is incorporated under the name "Maplebear Inc." In this case, the name Instacart is what's known as a "doing business as" name (which is also known as a "trade name," "fictitious name," or an "assumed name" depending on the jurisdiction).
Summary
If you want to incorporate a company, it is going to need a name.
Business entity names must follow certain content rules and they need to be distinguishable from other business names which have already been registered.
To navigate its business registry, Delaware offers two different business name search tools through its website, alongside plenty of informational resources which provide additional guidance on company naming.
If you want to buy yourself some time before incorporating a company, you can use Delaware's business name reservation system.
If the name you'd like to use is too similar to names that have already been registered, there are various strategies for making it more unique.
If you need to register your business in other states besides Delaware, you'll need to perform name searches on their respective registries. Filing for trademarks and other intellectual property protections requires a separate search process.
Written by Jason D. Rowley
Jason D. Rowley is Head of Content at Capbase. A former venture capital data journalist and researcher, he lives in Chicago with his dog Zeus.
Find out how to turn a company incorporated outside of the USA into a fully operational Delaware C Corporations.
by Capbase Staff • 10 min read
DISCLOSURE: This article is intended for informational purposes only. It is not intended as nor should be taken as legal advice. If you need legal advice, you should consult an attorney in your geographic area.
Capbase's Terms of Service
apply to this and all articles posted on this website.