Capbase Founder Spotlight: Andrew Bouras, Cofounder of VAROS Technologies
by Jason D. Rowley • 5 min read
published August 26, 2022 • updated September 30, 2022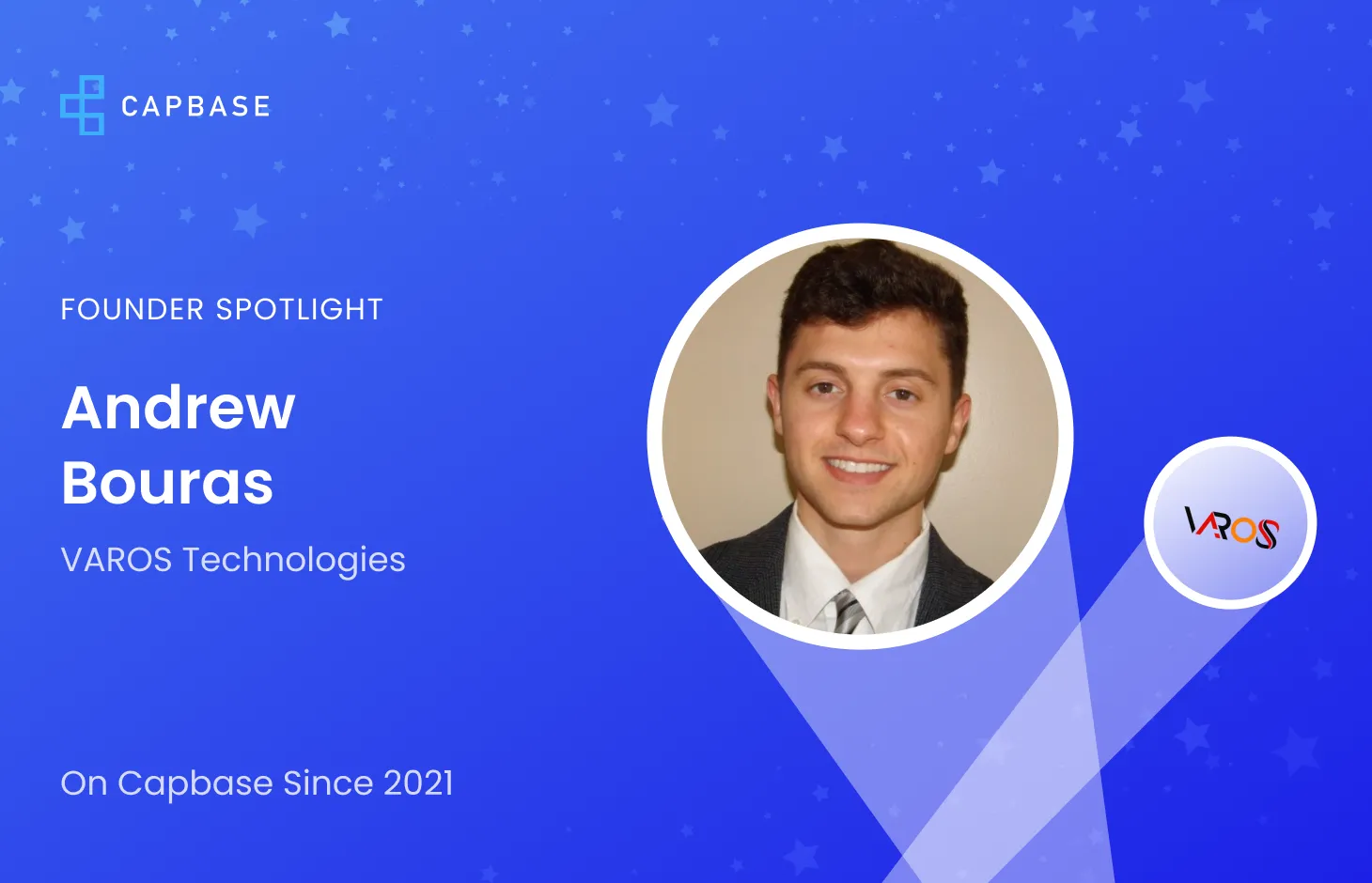 Welcome to the Capbase Founder Spotlight, where the Capbase team highlights some of the great startups that use our platform to start and manage their companies.
This week we have Andrew Bouras, cofounder of VAROS Technologies, a new marketplace platform aiming to connect folks running clinical trials with prospective participant patients interested in those trials discussing his startup founding story, the problem his team is tackling, and what his company would do if it suddenly had $10 million in its bank account.
Connect with Andrew on LinkedIn and follow him Andrew on Twitter and his personal website, BourasLife.com. Keep track of the VAROS Tech team's progress on LinkedIn and on Twitter.
Without further ado, let's hear it from Andrew!
In a sentence or two, what does your company do?
We are a healthcare-based software company using innovative technology to improve patient education.
How did you get the idea / what is the founding story?
I studied with a friend group to take the medical college admissions test (MCAT) and after receiving our final scores, everyone in my group decided to spend another year studying and retake it.
While I moved on and got a job in healthcare, I could hardly believe that my friends decided to reuse the same resources and simply adjust their study schedule to get a higher score.
I recognized that spaced repetition study software, Anki, was the current industry standard, but was limited to simple text- and image-based learning that was unrepresentative of the realities of working with human bodies. Thus, I had the initial idea of combining extended reality body parts with Anki MCAT flashcards. Skipping months and several pivots later, we have the same engrained motivation to educate users, but have shifted our focus to a more encompassing problem: patient education.
What were you doing before you started your company? At what point did you decide to go full-time on your startup?
I began VAROS Technologies just after my undergraduate graduation where I began working as a clinical research coordinator and applying to medical schools. When the idea of VAROS Technologies struck, I took immediate action to not only provide value to potential customers but to bolster my medical school applications. I decided to go full-time on my startup when the upside dwarfed the financial downside. In other words, I recognized the self and collective benefit that could be reached by going full-time with my efforts and I never looked back.
How did you choose the name of your startup?
I was consulting with Michael Joseph, now CTO of VAROS Technologies, and we did not like the current name, "AugKi MedEd" (Augmented reality + Anki Medical Education). While working out at the gym, we were brainstorming ideas and as soon as he blurted out the acronym, VAROS (Virtual & Augmented Reality Organ Systems), we knew we found a winner. Looking back, I think resorting to the first-principles route of thinking helped him recognize what we offered and made the name clear.
If you have co-founders, how did the founding team meet? Why did you decide to work together?
I had the idea and created a pitch deck that night. The following day, I shared the pitch with my Alma Mater's Entrepreneurship club. In that club, three members were interested enough to reach out (only one now works with VAROS). I then shared the idea and traction with an IRL friend who immediately reached out to his connections and brought two more members with specialized skills on board. After sharing the idea with two more IRL friends, we had our core team which we have grown since. We decided to develop these professional connections after already having strong personal connections. This way, we understood the inner workings of each individual and knew what to expect of each person. While doing so came with its own costs, I would not have wanted it any other way.
What are the other companies in the space and how are you unique?
We are unique in that we are a research site organization, thus we are a collection of research sites conducting clinical trials. The closest thing to a competitor would be the contract research organizations that work with a collection of research sites, but they perform different roles. We are unique in that we remove silos from clinical research coordination, growing into underserved areas and offering network-specific benefits.
Do you have customers? If so, how did you acquire your first customers?
We have a waitlist of individuals who will be considered the first users of our technology. We acquired these users by reaching out to fellow clinical research coordinators for customer discovery interviews and letting them know about what we are working on. Excitedly, many of them signed up on the spot.
What is something you learned about your industry only after starting a business?
Clinical trials are predominantly offered in America, Europe, and South Africa. With that, the pharmaceutical products that pass FDA clearance are utilized across a wide range of patient demographics. With that, the overlap between measuring the investigational product's efficacy and adverse events in a subject population and those who will ultimately be prescribed the medication is very thin. Too thin, in my opinion.
Have you raised money from external investors? If so, what was the point at which you decided it was the right time to take on investors in your business?
We have raised $1,000 from a pitch competition. We are now actively seeking our first external investment because expanding to a second research site location would decrease our monthly revenue if we do not hire another clinical research coordinator to take on the open position at the first site.
You suddenly have $10M in your company bank account... what is the first thing you allocate it toward?
Application lifecycle management software :p
Written by Jason D. Rowley
Jason D. Rowley is Head of Content at Capbase. A former venture capital data journalist and researcher, he lives in Chicago with his dog Zeus.
A brief interview with Capbase user Leslie Owensby, founder of wine upstart DEFY.
by Jason D. Rowley • 5 min read
DISCLOSURE: This article is intended for informational purposes only. It is not intended as nor should be taken as legal advice. If you need legal advice, you should consult an attorney in your geographic area.
Capbase's Terms of Service
apply to this and all articles posted on this website.