Capbase Founder Spotlight: Leslie Owensby, Founder of DEFY
by Jason D. Rowley • 5 min read
published July 22, 2022 • updated September 30, 2022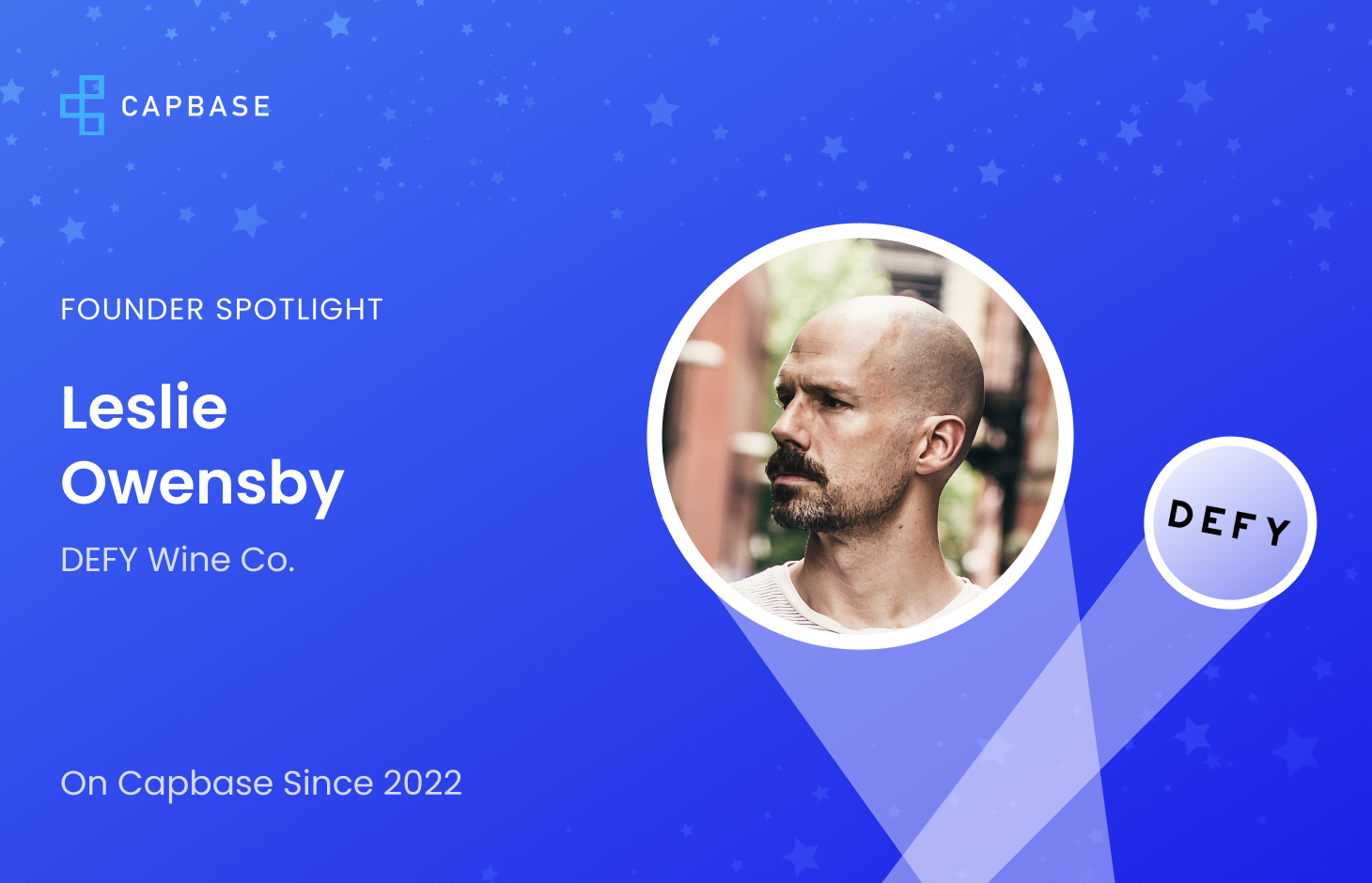 Welcome to the Capbase Founder Spotlight, where the Capbase team highlights some of the great startups that use our platform to start and manage their companies.
This week we have Leslie Owensby, founder of DEFY, an upstart eco-conscious canned wine brand featuring high-end quality without the high-end pretension. Here Owensby explains his sales strategy, the fragility of global supply chains, and how he became an entrepreneur after two decades of work in product development and user research. You can follow Leslie on Twitter and Linkedin, and follow DEFY on Instagram.
Without further ado, let's hear it from Leslie!
In a sentence or two, what does your company do?
We produce premium, ready to drink European wine that's vegan and organic, for the on and off-trade, in environmentally-friendly packaging: cans and kegs.
How did you get the idea / what is the founding story?
I love wine, and so do a lot of people I met, but there seemed to be so much complexity and snobbery in and around the wine world. Also, most of the time bottles are just not practical; I may want just a glass or two, I don't want to carry them and they down recycle well.
I wanted to high-quality, premium wine that was delicious, accessible, and just easy. No pomp and circumstance, just really good wine; so I made DEFY.
What were you doing before you started your company? At what point did you decide to go full-time on your startup?
I was a product development and user research consultant across a number of industries, for over 20 years.
I started working on DEFY in 2018 while still consulting full time to fund it. I quit consulting and focused on DEFY full time In August last year (2021).
How did you choose the name of your startup?
I worked to think of something that fit what I was trying to do, as well as being short, easy to spell and say, and was not already trademarked. DEFY fit perfectly because we're defying conventions to bring people great wine.
If you have co-founders, how did the founding team meet? Why did you decide to work together?
What are the other companies in the space and how are you unique?
Of course there are other people out there canning wine like: Bev, Maker, Babe, Usual, Archer Roose, and others.
But we offer premium, European wines in an approachable, straightforward way with a defiant edge, being both accessible, luxury and modern. Not to mention, vegan, organic and using no chemicals and adding nothing to our wines. We're keeping it natural.
Do you have customers? If so, how did you acquire your first customers?
96% of our sales are retail and we acquired them through direct outreach.
What has helped us grow more is in-person tastings with industry buyers in key locations and businesses categories like supermarkets, hotels, and restaurants. Once we get them to taste it, they are pretty well sold.
What is something you learned about your industry only after starting a business?
How fragile parts of the supply chain are, how many moving parts it has, how capital intensive it can be, and just how determined you have to be to be in the race.
Have you raised money from external investors? If so, what was the point at which you decided it was the right time to take on investors in your business?
We are currently looking to raise but no money raised to date.
You suddenly have $10M in your company bank account... what is the first thing you allocate it toward?
Bolstering existing account with further growth potential right before expanding into new markets to continue growing.
Written by Jason D. Rowley
Jason D. Rowley is Head of Content at Capbase. A former venture capital data journalist and researcher, he lives in Chicago with his dog Zeus.
A brief interview with Capbase user Robin Yan, cofounder of philanthropic community platform Fana.
by Jason D. Rowley • 5 min read
DISCLOSURE: This article is intended for informational purposes only. It is not intended as nor should be taken as legal advice. If you need legal advice, you should consult an attorney in your geographic area.
Capbase's Terms of Service
apply to this and all articles posted on this website.