Capbase Founder Spotlight: Robin Yan, Co-founder of Fana
by Jason D. Rowley • 5 min read
published August 19, 2022 • updated September 30, 2022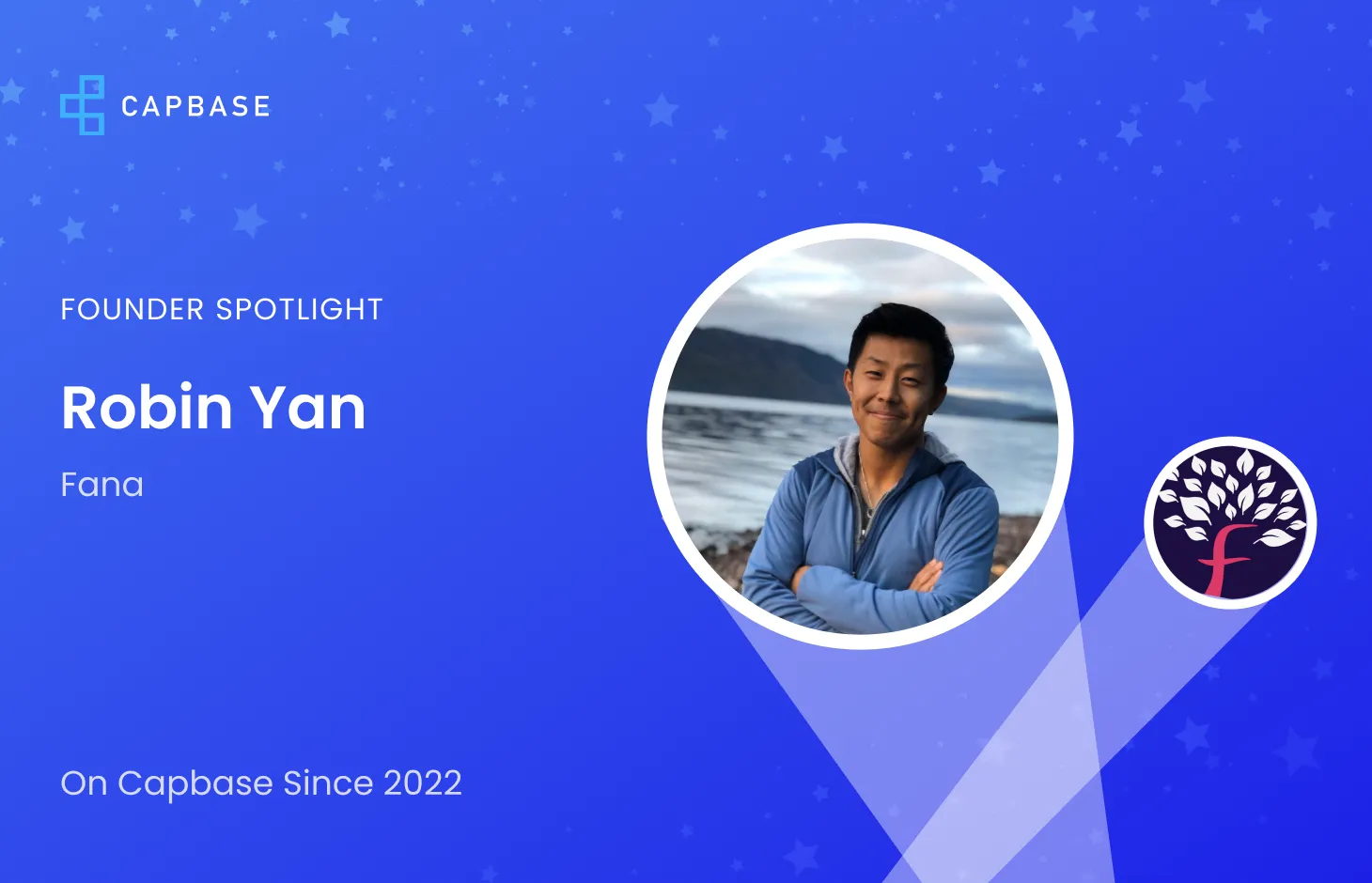 Welcome to the Capbase Founder Spotlight, where the Capbase team highlights some of the great startups that use our platform to start and manage their companies.
This week we have Robin Yan, co-founder of Fana, a new community platform for philanthropic giving, discussing his startup founding story, the problem his team is tackling, and what his company would do if it suddenly had $10 million in its bank account.
You can follow Robin on LinkedIn and keep track of company progress on Fana's LinkedIn and Twitter, as well as on the company's website Fanaverse.io.
Without further ado, let's hear it from Robin!
In a sentence or two, what does your company do?
Fana is creating the world's first & only digital philanthropic community for mobile native users by converting every checkout, everywhere to a donation opportunity. We're connecting the $4T eCommerce market with the $500B non-profit market. Fana reinterprets philanthropy as a digital consumer experience, optimizing for convenience & impact.
How did you get the idea / what is the founding story?
Charity today has a 3-pronged problem:
Poor unit economics (donor acquisition cost is higher than new donations), so overselling to an existing donor base is standard
Millennial and Gen-Z donors will not suffer inconvenience & impact opaqueness (it takes too long to donate with no real info on where the money goes)
Corporates want/need to make an impact but have no way to do so while aligning with all their customers.
Fana will make giving a habit and a source of entertainment, not a chore or nuisance.
What were you doing before you started your company? At what point did you decide to go full-time on your startup?
Before starting Fana I was working in PE/VC. Our focus was on eCommerce, supply chain & impact. Fundamentally, we never saw anything that put all the pieces together, and we said there's something missing here and decided, "screw it, let's just BYO". Fana was born and became an obsession.
How did you choose the name of your startup?
Fana is connected to the term "giving" but purposefully not directly taken from one language. It has a deeper alternative meaning loosely translated to "the transcendence of yourself and devotion to a higher cause", which we think is the essence of philanthropy.
If you have co-founders, how did the founding team meet? Why did you decide to work together?
Daniel is my technical co-founder and a brilliant person. We have been working together for 8 years, previously in Hong Kong and now in London - turns out he was always a builder and now super focused on putting the best product out there for our users. Nick is the 3rd leg of the tripod. We've all been working together for the last 3 years or so on helping companies we invested in grow - he's extremely hard working and now solely focused on building commercial partnerships with e-commerce merchants and with non-profits and making sure this is going to be a great solution for all stakeholders.
What are the other companies in the space and how are you unique?
Others in this space focus on: 1) providing fundraising services to charities, or 2) building checkout APIs for merchants. Fana is at the center of charities, merchants and users. We're doing something different by delivering a post-checkout experience that (pardon the cliché) democratizes philanthropy from an activity for the elite towards a new generation of younger consumers who truly care about people and planet.
Do you have customers? If so, how did you acquire your first customers?
Yes. Fana is a B2B(2C) play. We support merchants on their impact profile, which is more value-add dollar-for-dollar than other types of discounts/promotions and how impact is rapidly become the defining factor on consumer-merchant alignment. These consumers become Fana users and will access any number of charities around the world. Charities with Fana can access an entirely new, digital first donation stream.
What is something you learned about your industry only after starting a business?
Charitable giving is traditionally an inconvenient and opaque experience for the millennial and gen-z population. 20 to 40 year-olds are distrustful of large organizations generally and this drives down donations. They are smart & time-sensitive, so charities need to find a way to optimize for convenience and impact. Fana is working hard to highlight the grassroots nonprofits who are focused on delivering impact. Fana users can allocate their donations from their wallet to a wide variety of causes and will receive digital rewards that reflect their impact.
Have you raised money from external investors? If so, what was the point at which you decided it was the right time to take on investors in your business?
Yes, we decided to take external capital from the get go. I am fortunate to have an existing network of folks who have invested with me in the past, so we were able to focus more time and energy on building the product and acquiring customers which is what it's all about.
You suddenly have $10M in your company bank account... what is the first thing you allocate it toward?
We're actually targeting a raise in this range. Approximately half of the funds will be used to build out and improve the product. The balance will be on the commercial side to onboard merchants. The team has enormous aspirations for Fana, the goal being to build out a complete virtual community full of fana-tics. We're focused on building the best possible product and commercializing it.
Written by Jason D. Rowley
Jason D. Rowley is Head of Content at Capbase. A former venture capital data journalist and researcher, he lives in Chicago with his dog Zeus.
A brief interview with Capbase user Leslie Owensby, founder of wine upstart DEFY.
by Jason D. Rowley • 5 min read
DISCLOSURE: This article is intended for informational purposes only. It is not intended as nor should be taken as legal advice. If you need legal advice, you should consult an attorney in your geographic area.
Capbase's Terms of Service
apply to this and all articles posted on this website.